Summer trends and how to wear them
Issue 05: Summer 2020's clothing trends
If you got forwarded this email, or got it be accident, why not 

stick around

? Also, are these emails making it to your inbox?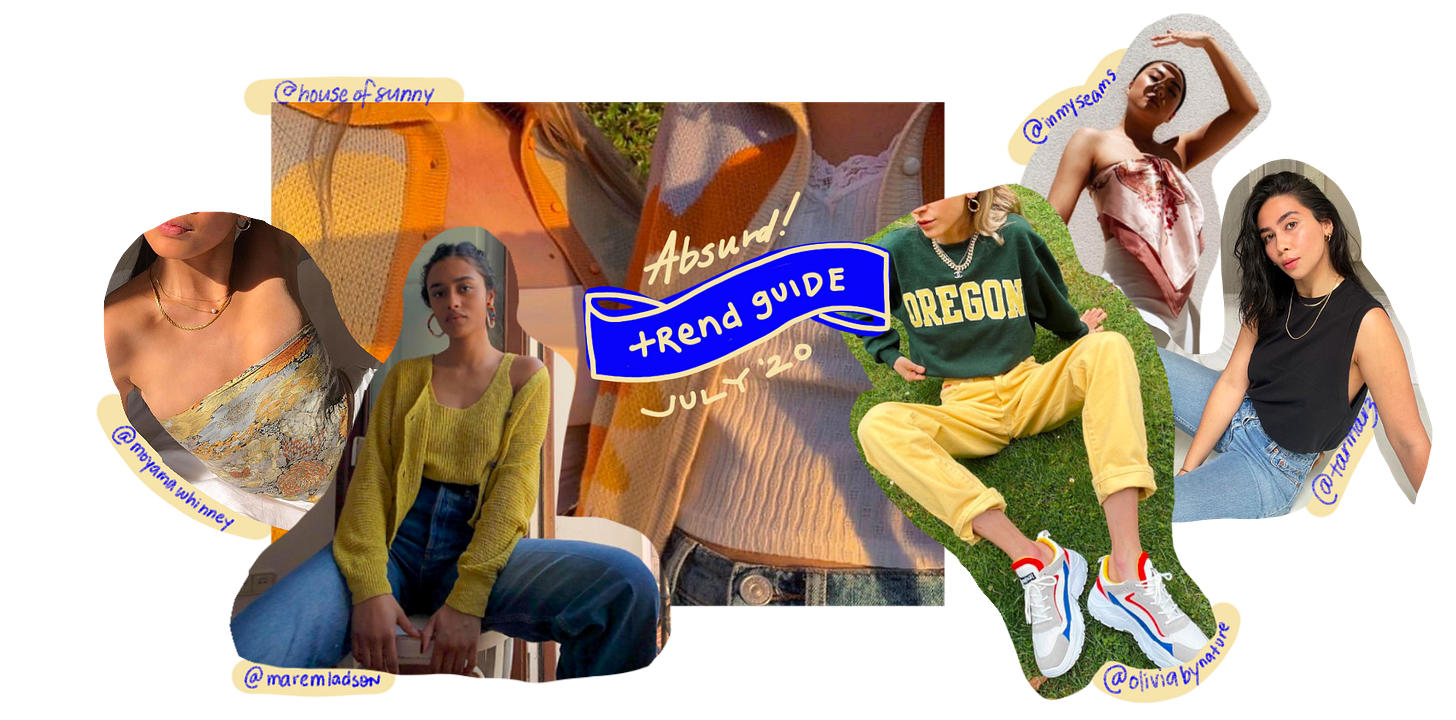 Hello hello!
Long time no chat. :) I hope y'all are doing well out there. I've come around your inbox to share what I think are the new trends for this summer. Of course, there are many trends that have stuck around – like white sneakers, solid colors, cute lil sandals – and just a few new ones that have cropped up, even while people were dressing for the four walls around them. Tell me what you think!
Question for you: What was the last clothing item you bought, and why did you buy it?
Hit Reply! I wanna know and I also may share!
---
Summer 2020 Trends 🍋
We're all guilty of binging on
@Netflix
rn while social distancing. I've been obsessed with Kingdom because (1) It's hella thrilling (2) I get to practice my Korean! Double whammy! Stoked to start the second season!
@netflixkr
#partnerwithnetflix
Monochrome outfits - top and bottom
Those quarantine sweat sets weren't the first, but they were an accessible entry point into the world of matching your top with your bottom. :) Compared to the earlier days of matching sets, todays tops and bottoms share a more casual connection – whether that be the same material or the just the same family of colors – and it makes it super easy to recreate.
I'm playing a few songs live on
@mango
's instagram today at 8:30 pm GMT +2 (2:30pm ET) ❤️
Knit for the summer - sweater shirt and cardigan
A lil more classy, a little more posh, a knit t-shirt with a cardigan of the same material (tied over your shoulders) screams I spent my quarantine in my second home and at the tennis club. It's fun to see knit materials being made into shapes other than a crewneck sweater and how people are now layering for texture.
Reminiscing on old thrift finds 😩💚💙 I miss thrifting IRL SO MUCH but tbh I'm still too uncomfortable even tho restrictions are lifting. Idk are y'all in the same boat or are you throwing on a mask and going anyway!? 😷 ⁉️
Brighter colors, actual patterns
Maybe it was tie-dye that brought it along, but people are embracing brighter colors! Almost neon, but not yet. Whether it's in shoes, jewelry, or a full on look, color is here for the sunny days and I'm so ready for it. You wouldn't be able to tell from my closet, but I'll pull out the colors just for you, 2020. (also another pattern example. Happy to see it.)
blue is my favorite color today 💧🌊🌎🦋 it changes often, what about you?
Silk scarves – for hair and as a top!
I may have mentioned these before, but they are so so pretty. The scarves themselves can be incredible (see hermès) and silk is a beautiful texture that isn't given enough love. I've been seeing them in the hair (like the photo or tied around a ponytail), tied as a bandeau top, and even as a belt.
Runner ups 👀
---
Recently bought 💸
For the first time in a short while, an item has moved from my cart, to my actual closet!
Girlfriend Collective Skort – had a dream they restocked and when I awoke, they actually did !! In these recent weeks, I've learned that gf is more sustainable and ethical than I thought possible.

Lululemon Winter Chill Puffer – jk. I was this close but their summer sale has items moving fast and my size was gone! :( If you got anything in their great sale this past weekend, share!! :))
Lastly, make sure to keep checking back to the July Sales post! Summer is getting hot but your wallet can stay cool. 🍦 x Iris