Sustainable fashion O.O
Issue 06: some gorgeous brands
If you got forwarded this email, or got it be accident, why not 

stick around

? Also, are these emails making it to your inbox?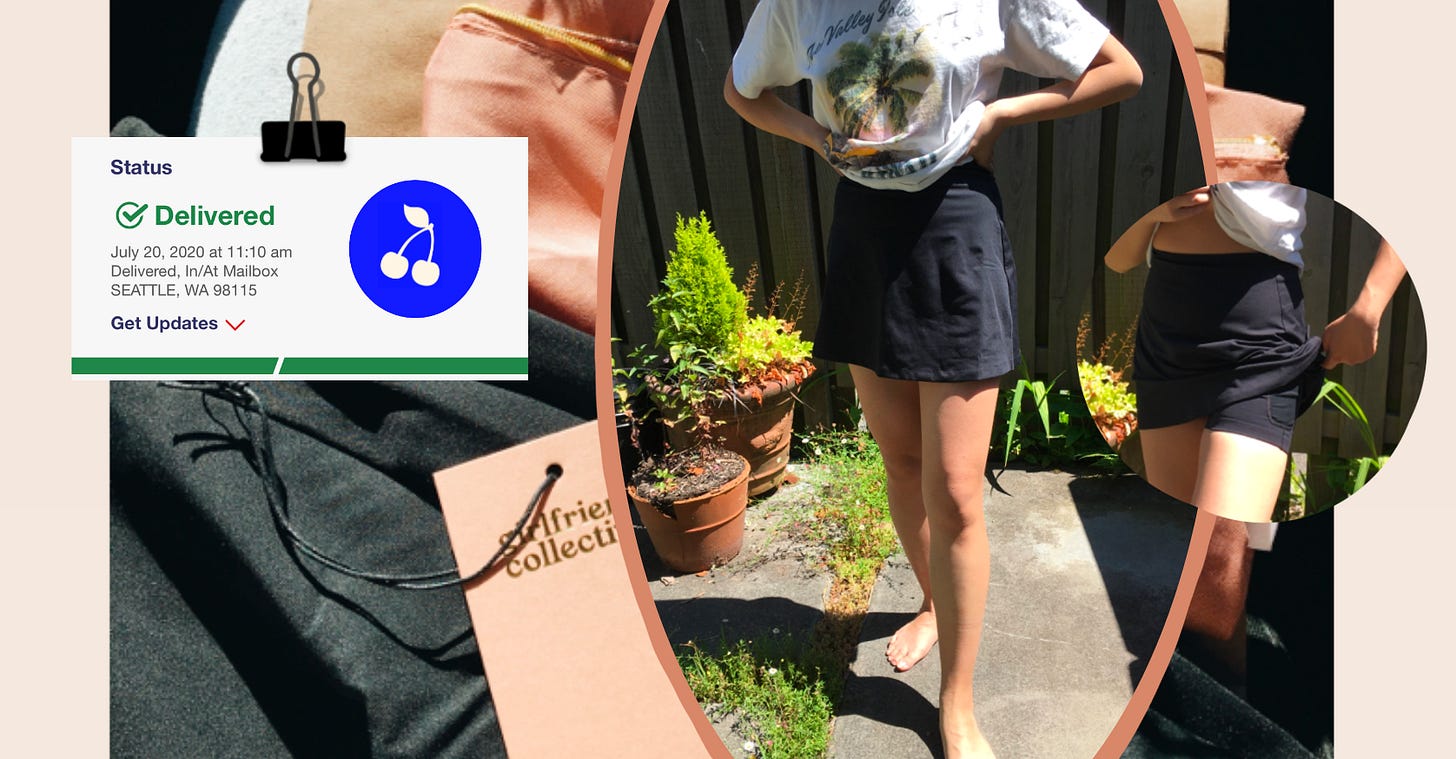 Last time…you may have heard that I got a skort!!
I love it. I really do.
One of the things that I loved as well was how often I was told I was amazing. Every order confirmation, shipping notice, receipt! was telling me that I was single-handedly saving the planet with my fashion choices.
It also made me feel a lot better about spending a hefty amount on the bike short-skirt combo.
Sustainability has always been a challenge in a world where trends come and go and we expect novelty around every corner. Something that I've had to learn over the years is that clothing shouldn't cost as little as it does at H&M or Forever21. Paying a living wage and implementing careful environmental practices is a reasonable cost that hasn't been normalized.
At the same time, I feel like everyone deserves warm clothes. Clothing shouldn't be so costly that people can only afford thrift stores that are overwhelmed with teens that don't need to be there.
Ultimately, I think the most sustainable thing you can do is love and wear the clothes you already have. But our styles change and maybe we borrow a friend's clothes to try out a style we think we may like.
We can only do our best in the situations we're in, and I think that applies to every positive world-changing effort we can make.
---
Some Sustainable Brands to Explore
Price Chart: $ – avg <$50, $$ – $50-100, $$$ – save up buddies :))

Threads4Thought $ – Simple basics for life and some activewear. One of the more affordable sustainable brands out there, especially in their sale section. My picks: cozy pullover and thermal joggers.
Frank and Oak $ – What I would call Everlane for a younger group. They've got some cute and solid pieces that are affordable in their summer sale! Look for the minimal label on the images. My picks: classic white button up, classic puffer, knitted black jumpsuit…

LACAUSA $$ – Jumpsuits, blouses, cute corduroy numbers. Their items look like what vloggers from California wear. They even have their summer sale going on with up to 75% off select items. (fun fact: when I worked in retail, the label made it seem like it was called LA-CA-USA.) My picks: pink boiler suit, silky emerald jumpsuit, baby tee!
Girlfriend Collective $$ – Y'all already know. Workout clothes + fun others that you can return to them when you're done and they will re-recycle it. A closed system of sustainability!! Be quick because they sell out. :) Get $10 off your purchase of $95 or more, always.
Back Beat Co. $$ – Known for their use of hemp fabrics which are better for the world, BBC is your place for beautiful, bright colors that you just want to dive into! My picks: classic turtleneck for layering, this Hawaiian shirt (dude!!), Cher bra aka one shoulder.

Boyish $$$ – If you're ready to invest in good, sustainable denim, this is the place. If not, they've got some great pieces in the $-$$ range that is similar to Madewell. Either way, they'll plant a tree with each order. 🌲My picks: overall shorts and denim skirt.
If you want to check more out, goodonyou is a great site to help you learn more about the sustainable practices of your favorite and soon to be favorite brands!
---
For next time: Is there a person or brand who's style you would like to recreate without spending a lotta $$? Tell me for future post!! x Iris